Lido DAO LDO price jumped to its highest point since January 24 after the developers unveiled the next steps towards Ethereum's Shanghai upgrade. LDO crypto jumped to a high of $2.63, which was about 40% above the lowest level this year. 
Lido unveils V2 plans
Lido has grown to become the biggest player in decentralized finance (DeFi) with a total value locked (TVL) of over $8.7 billion. Most of these assets are in Ethereum, followed by Polygon, Solana, Polkadot, and Kusama. Lido Staked ETH has a total market cap of over $5.6 billion. 
LDO price has done well in the past few months because of the upcoming Shanghai upgrade that will see people be able to withdraw their staked ETH. In a statement, the developers said that they will implement Lido V2 as the road to decentralization continues. It will be the biggest upgrade in the project's history.
As part of the upgrade, Lido will introduce staking router and withdrawals. With the staking router, anyone will be able to develop on-ramps for new Node Operators. The goal of this upgrade will be to create a more diversified validator ecosystem.
The next part will be on withdrawals, where stETH holders will be able to withdraw from Lido on a 1:1 ratio. This feature will have two modes: Turbo and Bunker modes. Turbo's withdrawals will be implemented more quickly by automating tooling for node operators and the protocol. The bunker mode will be implemented in case of catastrophic situations.
Therefore, the next few weeks will be crucial for Lido and LDO prices. Analysts expect that the Shanghai upgrade will happen in March or early April. Because Ethereum is the most dominant part of Lido, we could see more activity before then. As we wrote here, Lido will distribute LDO rewards via Aave v3 liquidity pools.
Lido DAO price forecast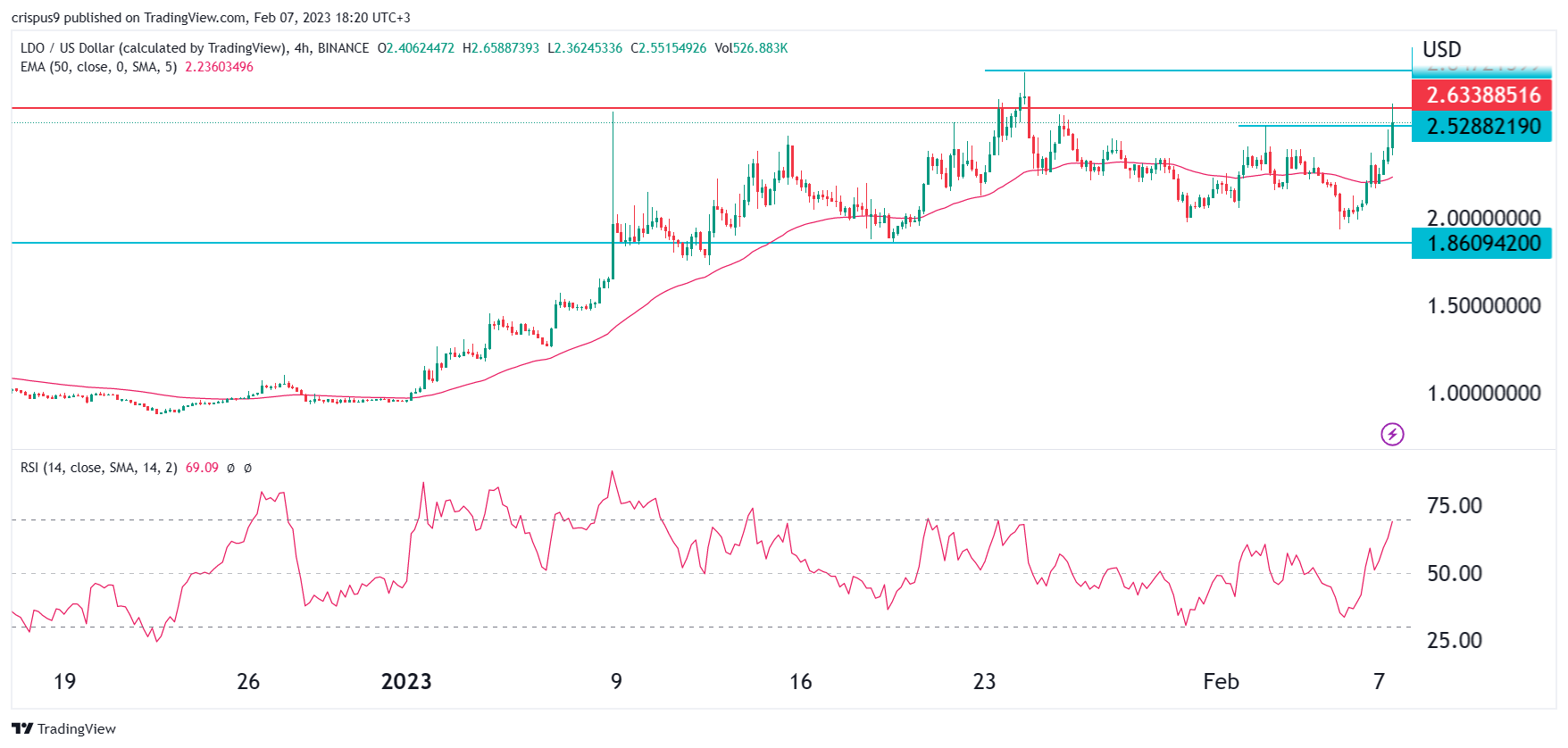 LDO/USD chart by TradingView
LDO crypto price jumped to a high of $2.65 on Tuesday, which was the highest point since January 24. As it rose, it moved above the important resistance point at $2.52, the highest point on February 2. It also moved above the 50-period moving average. The Relative Strength Index (RSI) is approaching the overbought level.
Therefore, the outlook of Lido is bullish, with the next reference level being at $2.85, the highest point this year. This price is about 12% above the current level. A break below the support at $2.30 will invalidate the bullish view.
How to buy Lido DAO
As LDO is such a new asset, it's yet to be listed on major exchanges. You can still purchase LDO using a DEX (decentralised exchange) though, which just means there are a few extra steps. To buy LDO right now, follow these steps:
1. Buy ETH on a regulated exchange or broker, like eToro ›
We suggest eToro because it's one of the world's leading multi-asset trading platforms, an exchange and wallet all-in-one with some of the lowest fees in the industry. It's also beginner-friendly, and has more payment methods available to users than any other available service.
2. Send your ETH to a compatible wallet like Trust Wallet or MetaMask
You'll need to create your wallet, grab your address, and send your coins there.
3. Connect your wallet to the 1Inch DEX
Head to 1Inch, and 'connect' your wallet to it.
4. You can now swap your ETH for LDO
Now that you're connected, you'll be able to swap for 100s of coins including LDO.